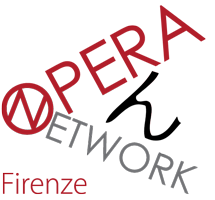 Opera Network
Opera Network began from an idea with Carla Zanin, now its President, as a linked project of advanced training and professional preparation. It became a Cultural Association in April 2015 with Paolo Bellocci as Artistic Director and Federico Bardazzi as Music Director. The founding concept derived from the need to create training projects in the setting of technical and artistic professionalism for live spectacles (music, prose, dance, etc.) and the arts, that would be capable of offering to young artists technical and professional courses of advanced specialization and completion with the final principle of creating a concrete occasion to experiment in the field with the competencies acquired and achieved in the profession.
Opera Network is founder and partner of Conservatorio di Musica della Toscana together with Conservatorio Pierluigi da Palestrina di Cagliari and of Accademia di Belle Arti Toscana together with Accademia Kandinskij and Liceo Artistico Gemelli 2.0.
Opera Network is the International Centre of Studies for the Italian language and for the artistic and musical training of international students in particular joining the Turandot Program Italy- China and international students; It is indeed accredited as the Centre of Examination for the certification of the Italian Language at the University for Foreigners in Perugia and has agreements with several music Conservatories, Academies of Fine Arts and Universities.
Thanks to an important three-year exclusive agreement signed by the President Carla Zanin, Opera Network is the Main Partner for the Professional Training of the Puccini Festival Foundation, and in particular of its Training Agency accredited by the Tuscany Region, whose Director and Coordinator are Federico Bardazzi and Paolo Bellocci respectively. The main target is the coordination and the realization, through the creation of prestigious partnerships, of broad drawn projects on ESF notices - European Social Fund and international notices INAPP - European Union National Agency.
Opera Network carries out cultural and sport Programs under the Patronage of the Municipality of Florence and the approval of the Sistema Paese management of the Italian National Ministry of Foreign Affairs for young international students with the aim of creating a cultural exchange and training athletes for professional sports activities in the football field.
The Opera Network system makes use of Italian and European qualified partners: Music Conservatories, Academies of Fine Arts, universities, theaters, local authorities, Festival, Maisons of high fashion and couture, lighting companies, etc.) that operate on the network. and collaborate on spectacular realization of the work (plays opera, ballets, concerts, etc.) The system can count on artists and professionals of clear national and international reputation that enrich the quality of projects and productions.Opera Network is also active in the areas adjacent to the cultural sector, such as the social system, in particular in the specific declination of music therapy, aware of the significant added value that music and the arts bring to the individual.

The main skills are:
-Management of training projects, also aimed at foreign students, especially Chinese, who wish to study and specialize in our country in the art and music sectors under the Turandot program;
 - Realization of the Italian language courses for young international students with particular reference to the technical language of music and the arts;
-Proposals and global activities for training projects for the POR FSE and ERASMUS + Call for Applications.
- Research, coordination and 'partner' activities with private and public bodies for the enactment of training activities and cultural events.
- Cultural organisation, marketing and promotion.
- Research for projects that involve categories with the disadvantaged, according to the Tuscan Region's guidelines of material for inclusion/re-inclusion in the workplace.

The training and production activities of Opera Network are strongly identified with great attention to technological innovations, valorising at the same time the particular traditions of the 'bottega dell'arte', the craft workshop, and always with a strong link to the world of work. Its charter members, Federico Bardazzi, Paolo Bellocci and Carla Zanin, strengthened by a long and articulate experience in the sector, matured within the training agency Maggio Formazione and in collaboration with principle foundations and industries in this sector at the national level (Fondazione Festival Pucciniano, Teatro Metastasio di Prato, Teatro Verdi di Pisa, Teatro Nationale della Toscana, Scuola di Musica di Fiesole, Istituto Musicale Luigi Boccherini, Conservatorio Luca Marenzio di Brescia, Accademia di Belle Arti di Firenze, Università per Stranieri di Perugia, Zeta Group Video di Treviso, Maison Coveri, Scuola di Arti Orafe di Firenze, Teatro Niccolini di San Casciano, Kaos Balletto di Firenze, Byobite etc), have in their activity carried out numerous training courses dedicated to all the professional theatre figures: theatre managers, video recorders, cameramen, set designers both actual and virtual, costumers, audio technicians, lighting designers, make-up artists and hair dressers, tool makers, mechanics, besides actors, dancers, singers, master collaborators.
At the international level Opera Network collaborates with prestigious foundations and industries in the sector, such as the University of Graz, the Hochschule of Munich in Bavaria, the Landestheater of Salisburg, the Academy of Fine Arts and the Academy of Music of Cluj (Romania), the Conservatory of Lubiana (Slovenia), the Conservatory of Miskolc (Hungary), the Accademia of Bydgoszcz (Poland), International Young Artists Project North Carolina (USA), Yale UNiversity (USA) Israel Choral Association di Tel Aviv, Opera Zimrya, Akko Israel, Waagner-Biro Stage Systems of Vienna and more.
Opera Network nasce da un'idea di Carla Zanin, attuale Presidente, come articolato progetto di alta formazione e avviamento professionale e si costituisce formalmente come Associazione Culturale nel mese di aprile 2015 con Paolo Bellocci Direttore Artistico e Federico Bardazzi Direttore Musicale.
L'idea fondante nasce dall'esigenza di costruire progetti formativi nell'ambito delle professionalità tecniche e artistiche dello spettacolo dal vivo (musica, prosa, danza) e delle arti, in grado di offrire, a giovani musicisti, artisti, tecnici e professionisti, percorsi di alta specializzazione e perfezionamento con la finalità principe di creare un'occasione concreta di sperimentare sul campo le competenze acquisite e avviarsi alla professione.
Opera Network è fondatore e partner del Conservatorio di Musica della Toscana insieme al Conservatorio Pierluigi da Palestrina di Cagliari e dell'Accademia di Belle Arti Toscana con Accademia Kandinskij e Liceo Artistico Gemelli 2.0, con quest'ultimo ha creato il Programma Liceo Artistico – Programma Studenti Internazionali
 
Opera Network è Centro Internazionale di Studi per la Lingua Italiana e per la preparazione musicale e artistica di studenti internazionali in particolare aderenti al Programma Turandot Italia – Cina; è infatti accreditata come Centro d'Esame per la certificazione della Lingua Italiana presso l'Università per Stranieri di Perugia ed è convenzionata con numerosi Conservatori di Musica, Accademie di Belle Arti e Università.
Grazie a una importante convenzione triennale esclusiva siglata dalla Presidente Carla Zanin, Opera Network è Main Partner per la Formazione professionale della Fondazione Festival Pucciniano e in particolare della sua Agenzia Formativa Accreditata presso la Regione Toscana, di cui è Direttore Federico Bardazzi e Coordinatore Paolo Bellocci. Obiettivo primario sono il coordinamento e la realizzazione, attraverso la creazione di prestigiosi partenariati, di progetti di ampio respiro a valere su bandi FSE - Fondo Sociale Europeo e bandi internazionali INAPP - Agenzia Nazionale dell'Unione Europea.
Opera Network relizza programmi sportivi – culturali con il Patrocinio del Comune di Firenze e l'approvazione della Direzione Generale Sistema Paese del Ministero degli Affari Esteri Italiano dedicati a giovani studenti intirenazionali con lo scopo di creare scamb I culturali e di formre atleti per svolgere professinalmente attività sportive con particolare riferimento al settore calcistico.
Il sistema di Opera Network si avvale di partner qualificati italiani e europei: Conservatori di musica, Accademie di Belle Arti, Università, Teatri, Enti locali, Festival, Maison di alta moda e sartoria, aziende di illuminotecnica etc.) che operano in rete. e collaborano alla realizzazione dell'opera spettacolare (pièce teatrale, opera lirica, balletto, concerto etc.) Il sistema può contare su artisti e professionisti di chiara fama nazionale e internazionale che arricchiscono la qualità dei progetti e delle produzioni. Opera Network è attiva inoltre negli ambiti contigui al settore culturale, quali il sistema sociale, in particolare nella specifica declinazione della musicoterapia, consapevole del significativo valore aggiunto che la musica e l'arte apportano all'individuo.
Skills principali sono:
- gestione di progetti formativi, rivolti anche a studenti stranieri, in particolare cinesi, che desiderano studiare e specializzarsi nel nostro paese nel settore artistico e musicale nell'ambito del Programma Turandot;
- realizzazione di corsi di lingua italiana rivolti a giovani studenti internazionali con particolare riferimento al linguaggio tecnico del settore musicale e artistico;
-progettazione e gestione globale di progetti formativi da bandi POR FSE e da bandi ERASMUS +
-attività di ricerca e coordinamento di partenariati di enti privati e pubblici per la realizzazione di progetti formativi e eventi culturali;
-organizzazione, marketing e promozione culturale;
-studio di progetti che prevedano il coinvolgimento delle categorie con svantaggio sociale, secondo le indicazioni della Regione Toscana in materia di inserimento/reinserimento nel mercato del lavoro;
Le attività di formazione e produzione di Opera Network sono fortemente connotate da un'attenzione particolare per l'innovazione tecnologica, valorizzando al contempo la tradizione afferente alla "bottega dell'arte" e sempre con un forte collegamento con il mondo del lavoro.
I suoi soci fondatori, Federico Bardazzi, Paolo Bellocci e Carla Zanin forti della lunga e articolata esperienza nel settore, maturata all'interno dell'Agenzia formativa Maggio Formazione e in collaborazione con i principali enti e imprese del settore a livello nazionale (Fondazione Festival Pucciniano, Teatro Metastasio di Prato, Teatro Verdi di Pisa, Teatro Nazionale della Toscana, Scuola di Musica di Fiesole, Istituto Musicale Luigi Boccherini, Conservatorio Luca Marenzio di Brescia, Accademia di Belle Arti di Firenze, Università per Stranieri di Perugia, Zeta Group Video di Treviso, Maison Coveri, Scuola di Arti Orafe di Firenze, Teatro Niccolini di San Casciano, Kaos Balletto di Firenze, Biobyte etc…) hanno al loro attivo la realizzazione di numerosi percorsi formativi dedicati a tutte le figure professionali del teatro: manager teatrali, registi video, cameramen, scenografi realizzatori e virtuali, costumisti, tecnici audio  e video, lighting designer, truccatori e parrucchieri, attrezzisti, macchinisti oltre a attori, danzatori, cantanti, maestri collaboratori.
A livello internazionale Opera Network collabora con prestigiosi enti e imprese del settore, quali Università di Graz, Hochschule di Monaco di Baviera, Landestheater di Salisburgo, Accademia di Belle Arti e Accademia Musicale di Cluj (Romania), Conservatorio di Lubiana (Slovenia), Conservatorio di Miskolc (Ungheria), Accademia di Bydgoszcz (Polonia), International Young Artists Project North Carolina (USA), Israel Choral Association di Tel Aviv, Waagner-Biro Stage Systems di Vienna, etc…